Given the "Covid" year that was, it was wonderful to receive notification that DJ:Plus! Entertainment had been awarded the title of Best Wedding MC & Wedding DJ 2021 – Australia at the 2021 LUXlife Magazine Global Wedding Awards!
The notification goes on to say, "DJ:Plus! Entertainment has demonstrated excellence and commitment in this industry, even in the face of uncertainty and more than ever, we believe you should be recognised!"
The LUXlife extensive research and judging process is driven by merit and centred around an in-depth evaluation of skills and services on offer. Awardees must demonstrate expertise within their field, dedication to customer service and a commitment to promoting excellence. This approach has brought LUXlife much success and commendation throughout its use and enforces LUX Life's stance that victors are not determined by popularity of votes, but by their contributions to their respective industry.
DJ:Plus! Entertainment is extremely honoured to be given the opportunity to be involved in a couple's wedding day; to be recognised by couple's and industry for my efforts means so much. A humongous THANK YOU to the couples that entrust me with their most special of days, your faith in me drives me to continually improve and to offer much more than the average MC or DJ. I remain forever grateful for allowing me to indulge in my passion.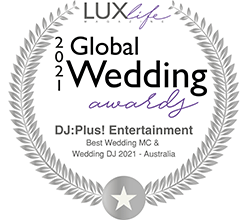 ---