ABIA Press Release
The quest for the perfect wedding supplier is an activity practised each year by over 110,000 Australian brides. On Tuesday the 9th of December, the NSW wedding industry congregated at the WaterView Convention Centre to honour the best of these suppliers at the 12th NSW Annual Bridal Industry Awards – the ABIA's.
The opening address was given by the Chairman of the Australian Bridal Industry Academy Mr John O'Meara, who congratulated the Finalists on their contribution to the delivery of a bride's perfect day. Mr. O'Meara said that the ABIA Finalists should be extremely proud of their achievement, considering that it requires an average 16 individual wedding business's to communicate, cooperate and coordinate in designing the dream of the bride's perfect day.
Over 1,700 past Brides and Grooms cast their votes for 1,550 NSW wedding suppliers across 34 wedding categories, culminating in 353 Finalists. Mr. O' Meara went on to say that the quality of products and services provided by the Finalist continued to excel with the majority of Finalists achieving an industry rating in excess of 97%.
Mr. O'Meara said that the wedding industry is predominately serviced by small business who are ideally suited to the provision of a 'one on one' personal service and have the experience and expertise to understand the individual needs of each of their brides. It was this experience and expertise which culminated in their nomination as Finalists and Winners of an ABIA Award for wedding excellence.
The Annual Bridal Industry Awards is administered by the Australian Bridal Industry Academy, a national organization which has, over the past 12 years, monitored the performance of over 30,000 wedding suppliers who have had the quality of their product, quality of service, value for money and attitude of staff rated by over 50,000 past brides.
End of Press Release
DJ:Plus! Mobile Disco Entertainment was once again very proud and honoured to be a finalist in these awards. Given that all the other three finalists are multi-operators and can potentially perform at more events in one weekend than I am able to in a whole year, the fact that I was once again a finalist was very pleasing indeed as it independently validates the high level of service provided and the care taken with each couple's special day.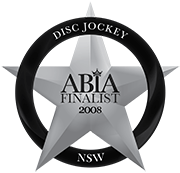 ---