On Tuesday the 8th of December, the NSW wedding industry gathered at Dockside in Darling Harbour for the 13th NSW Annual Bridal Industry Awards.DJ:Plus! Entertainment was once again very proud to have been a finalist in these prestigious awards. For the last nine consecutive years, DJ:Plus! Entertainment has been either a finalist or winner. Given the difficulty for my particular service to attain this level of recognition, it is indeed very gratifying to achieve this honour. In order to provide a premium quality service and ensure that each wedding receives the full attention it deserves, I take no more than around 40 weddings per year. Compared to those that have the ability to perform at three times that number of weddings in a single weekend, this achievement confirms that my clients greatly value the time I input and dedication invested in their wedding.
To the brides and grooms who nominated me for this award, thank you!!! – but I thank you all even more for giving me the privilege and honour of sharing your wedding journey and allowing me to play a part in, and be a part of, your very special day.
DJ:Plus! Entertainment will continue to develop and refine the service offered, raise standards, and the expectations of clients to set benchmarks by which all other wedding DJ services will be compared.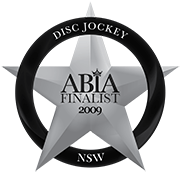 ---