DJ:Plus! Entertainment is constantly striving to find ways of improving every aspect of the service provided and was proud to be one of the very first DJs in Australia to offer clients the Bose L1 for the ultimate in sound fidelity at their event. It's amazing sound and sleek modern look gives you and your guests unsurpassed sound quality, utilising Bose's superior technology and research.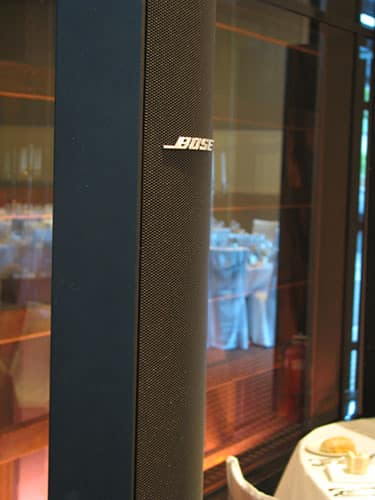 The first thing you will notice is that the Bose L1 system looks like no other speaker system. Conventional sound systems consist of two speakers that project sound very loudly directly in front of the speakers and then drops off dramatically as you move away from them. Bose L1 technology is an entirely new approach to amplification that produces fantastic clear sound at any volume, much like a high end Hi-Fi and offers a much more delicate texture and refinement of the sound. Unlike conventional loudspeakers the new Bose L1 Cylindrical Radiator has the unique property of radiating sound evenly across an entire area with very little change in sound level or quality.
Conventional speakers will force the sound out across the room in a narrow, cone shaped beam. Sound can only travel a short distance before it begins to fade or completely drop off. The people closest to the speakers will hear the music but the sound won't travel to the far end of the room or around corners. To resolve this problem Disc Jockeys tend to turn up the volume level so that their speakers will force the music to bounce off walls, ceilings and floors so that everyone can hear it. Unfortunately this causes the music to be so loud that it is uncomfortable for your guests and generally results in complaints about volume levels. At the same time the louder the volume, the less clear the sound will be.
The Bose L1 Cylindrical Radiator uses all new technology to distribute full range sound in a wide even pattern of nearly 180 degrees, so brightness and clarity remain constant. This means that virtually everyone in the room will be able to hear exactly the same detail and quality of sound, all without any unwanted distortion.
What does this mean for you?
Even at low levels the music, speeches and announcements will be heard throughout the room with complete clarity and at a level that everyone can enjoy. There is no longer a need to blast the room with sound. The new Bose L1 fills the room with sound much like a glass fills with water, evenly and clear. The spread of sound is truly remarkable and it is easily loud enough for dancing without being too loud for conversation. It is an incredible dynamic that has to be experienced to be believed – it's just that amazing!
The Bose L1 will blend ever so elegantly into the decor of any stylish venue and will fill it with an even, warm and rich sound. DJ:Plus! Entertainment has invested in two Bose L1 Loudspeakers and four Bose B1 Subs in order that, if required, your event can experience this beautiful sound in full stereo. DJ:Plus! Entertainment was also proud to be the first DJ in Australia to offer the Bose L1 Compact portable line array system. Featuring Bose Spatial Dispersion technology, the L1 Compact is perfect for wedding ceremonies, where additional audio fill is required in a separate area and for small events up to around 100 guests.